Of all the means of expression available to fiber artists, color and texture have the greatest impact. The special problems relating to contrasts in color and texture are the focus of this workshop. You'll learn color principles used as a basis for creative work in fibers: properties of color, effects of color contrast and development of color schemes, along with how to improve the design quality of your fiber art. Nita Leland is the author of Exploring Color, Confident Color, and The New Creative Artist, as well as the designer and manufacturer of the Nita Leland ™ Color Scheme Selector.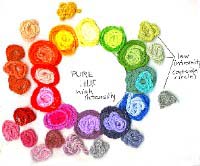 This workshop can be done in yarn, fabric or fiber, weaving, knitting and quilting.
Participants provide:
sketchbook or notebook; pen, pen or pencil, eraser
fabric scraps and fat quarters or yarn for color samplers (Please bring some to share.)
one or two pieces of your fiber work for show-and-tell color critique
medium-weight illustration board or heavy weight paper for charts 8" x 10" to 9" x 12"--15-20 pieces
scissors or trimmers
fabric glue and/or acrylic matte medium
If you wish, you may use Prismacolor colored pencils, watercolor pencils or crayons, watercolors, markers, or acrylic paints in all spectral and earth colors, including some you might not normally use. You'll want to try as many combinations as possible.
If you work in watermedia, you will also need:
white watercolor palette (Speedball ColorWheel is great for color theory.)
watercolor brush
2 water containers, quart or larger
paper towels