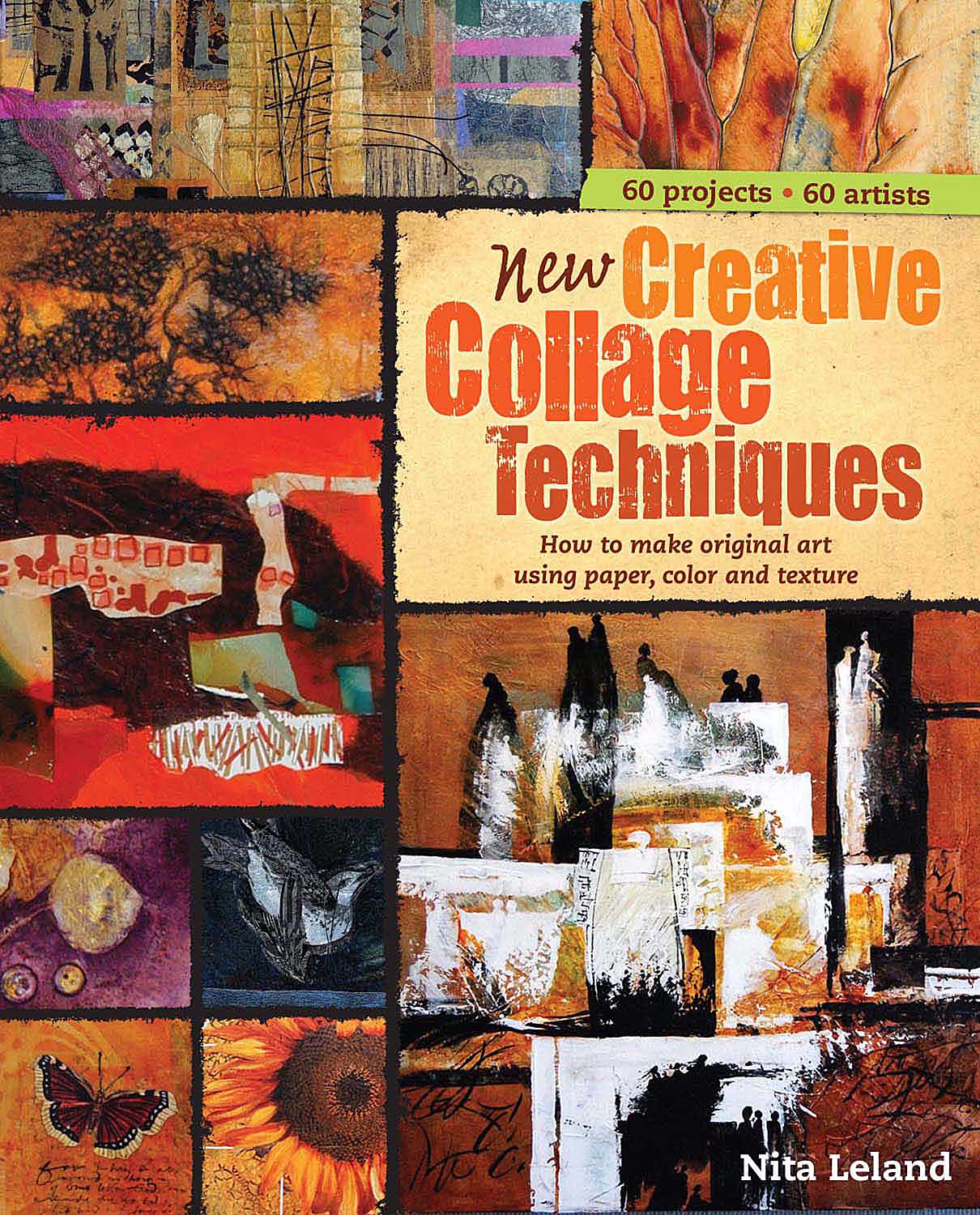 <!end north light-->
Nita Leland Workshops 2014

November 7-9. 3-day workshop: Adventures in Creativity. Evendale Cultural Arts Center, near Cincinnati, Ohio. Contact Pat Haslit. Free your creative spirit. Discover how to access your creativity and capture ideas, images, and quotations in a sketchbook. Try new color and design ideas; experiment with abstraction; play with mixed media, monotype, and basic collage techniques in a fun and friendly atmosphere with helpful critiques and tips on goal-setting. Based on The New Creative Artist.

To book a workshop in 2015, please email me to reserve a date. Workshops available in color, creativity, collage, or watercolor.
Welcome to Nita Leland's Exploring Color & Creativity Web Site
If you haven't already visited my woodland project, start here. Class News
Here's the 2015 exhibit--our tenth at Hithergreen now on exhibit until March 30. We've covered a lot of ground since the class started in 2002. They are doing amazing work and I'm very proud of them.
This is the 2012 exhibit. We've covered a lot of ground since the class started in 2002. They are doing amazing work and I'm very proud of them. My class had their sixth exhibition in 2011 at Hithergreen Center. You can see it here.. And, here's a link to our fifth exhibit and another to the fourth exhibit in 2009, "Exploring Watercolor.".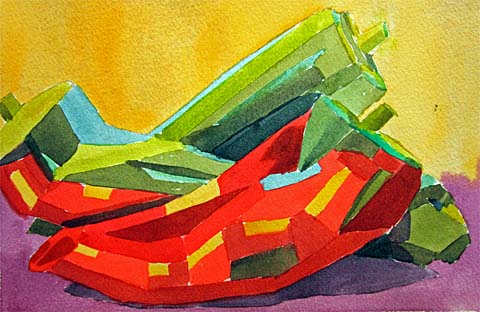 I enjoy bragging about my Exploring Watercolor class. One of their accomplishments was a 3-way challenge from a series on painting one subject three different ways: realistic, stylistic, and abstract. This activity is in The New Creative Artist on page 167. Shown at right is Sylvia Dugan's stylized version of a still life with three peppers.
Visit my blog starting here to see their wonderful self portraits. Check out the 2-hour Challenge, too: Exploring Watercolor 2-hour Challenge and enjoy this mosaic of colorful artwork that the class did a while ago. We explored some of the concepts in my book, Confident Color. Their response to this exercise was awesome.

Photoshopping with The New Creative Artist--Check out this entry on my blog, then view a few pages from the book.
Please visit my art blog and let me hear from you. Subscribe to my Blog with Bloglines, a newsreader that shows when the blog is updated.
Art Quote
One can have no smaller or greater mastery than mastery of oneself.
Leonardo da Vinci
Here & There on the Web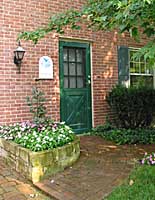 Here's a fantastic resource for learning about SLR camera settings: CameraSim demystifies camera settings by showing you what happens to your image when you change settings.
Put your art studio on TheArtsMap.com and artists from all over the world can contact you or visit you online. This is a great resource created by collage artist Jonathan Talbot and Robin Colodzin.
I love this blog: History of the Color Wheel. I wonder why?
Active Music Therapy for Parkinson's Patients interests me because of two family members who have Parkinson's. Another program that intrigues me is Nia, a beautiful movement fitness program involving graceful dance and music that I experienced with my friends in Canada recently.
Catherine Whipple's Self-help healing arts journal is packed with inspiration and creative ideas.
Browse My Shopping Mall for booksellers, art, craft and office supplies.
Art Product News

Now that full-spectrum fluorescent lighting has become all the rage, there are many sources for the bulbs. My favorite is Vitalite. However, I've been replacing my Vita-Lites with General Electric Sunshine F40. The bulbs are 5000K, not the 5500K of the Vitalites, but with a CRI of 90, they seem to do the job as well at a lower price. The manufacturer claims 9 years of life for these bulbs--my Vitalites lasted 15 years and more. Ott Lites also come highly recommended for artists' studios.
If you hate cutting mats, here's a source for pre-cut and custom mats: Matcutter.com.

MAToMATic allows you to upload your photos or art images and select mat colors, mat liners and frames--even see how the finished picture will look on your colored walls. The home site for MAToMATic is Matshop.com.

Return to Top