Welcome to Nita Leland's Exploring Color & Creativity Web Site
Summer is flying by, but there's still time to sign up for my Las Vegas watercolor workshop. It's all about color... What's on YOUR palette? Learn fresh ways to express yourself in watermedia and create unique original artwork with an emphasis on color. Daily critiques for every skill level and a free private consultation on current work. I'll make this intense learning experience informal, friendly, and fun for you. October 7-11. 5-day Watercolor Workshop with emphasis on color; Nevada Watercolor Society, Las Vegas, NV. Contact Sharon Menary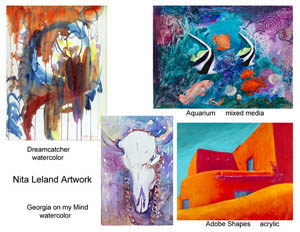 For more information, see my Blog.
Here's the 2012 exhibit by my Exploring Watercolor Class. We've covered a lot of ground since the class started in 2002. They are doing amazing work and I'm very proud of them. My class had their sixth exhibition in 2011 at Hithergreen Center. You can see it here.. And, here's a link to our fifth exhibit and another to the fourth exhibit in 2009, "Exploring Watercolor.".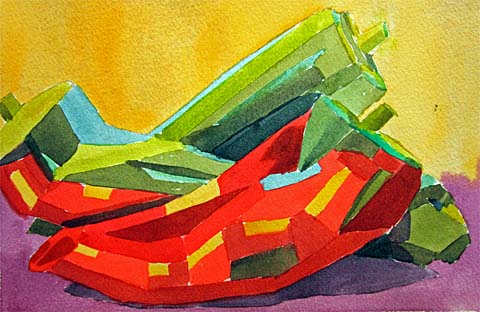 I enjoy bragging about my Exploring Watercolor class. One of their accomplishments was a 3-way challenge from a series on painting one subject three different ways: realistic, stylistic, and abstract. This activity is in The New Creative Artist on page 167. Shown at right is Sylvia Dugan's stylized version of a still life with three peppers.
Visit my blog starting here to see their wonderful self portraits. Check out the 2-hour Challenge, too: Exploring Watercolor 2-hour Challenge and enjoy this mosaic of colorful artwork that the class did a while ago. We explored some of the concepts in my book, Confident Color. Their response to this exercise was awesome.
Check out my DVDs for home study.

My Creative Art Class DVD has 100 minutes of instruction on various techniques to jump-start your creativity or to inspire your classes to try new things.

The Collage Art Techcniques DVD is 75 minutes long and packed with information and demos.
For previews, search YouTube or search for the titles or "Nita Leland" at ArtistsNetwork.tv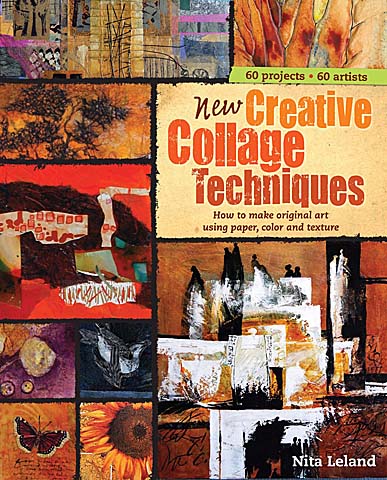 New Creative Collage Techniques has been very well received. The book is stunning and easy to use with the stay-flat spiral binding.
Please check out my two earlier DVDs: Creating Confident Color

and Paper Collage Techniques

. For previews, go to ArtistsNetwork.tv
Here's a site Color Scheme Designer that is a useful tool for the color schemes described in my book, Confident Color. The book is available from amazon.com and at my publisher's online North Light Shop. You can also purchase signed copies of my books from my Web site using PayPal. Click on the book icons on this page for more information.
FWMedia and North Light Books have distributors in Australia, Canada, South Africa, and the United Kingdom, so my books can be ordered around the world.


Photoshopping with The New Creative Artist--Check out this recent entry on my blog, then view a few pages from the book.
Please visit my art blog and let me hear from you. Subscribe to my Blog with Bloglines, a newsreader that shows when the blog is updated.