Welcome to Nita Leland's Exploring Color & Creativity Web Site

At long last the snow has departed from Ohio and spring is here. The wildflowers are popping up throughout my quarter-acre woods, a welcome sight. If you haven't already visited my woodland project, start here.

Here's the 2012 exhibit by my Exploring Watercolor Class. We've covered a lot of ground since the class started in 2002. They are doing amazing work and I'm very proud of them. My class had their sixth exhibition in 2011 at Hithergreen Center. You can see it here.. And, here's a link to our fifth exhibit and another to the fourth exhibit in 2009, "Exploring Watercolor.".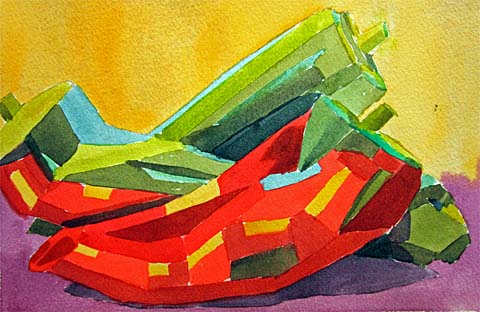 I enjoy bragging about my Exploring Watercolor class. One of their accomplishments was a 3-way challenge from a series on painting one subject three different ways: realistic, stylistic, and abstract. This activity is in The New Creative Artist on page 167. Shown at right is Sylvia Dugan's stylized version of a still life with three peppers.
Visit my blog starting here to see their wonderful self portraits. Check out the 2-hour Challenge, too: Exploring Watercolor 2-hour Challenge and enjoy this mosaic of colorful artwork that the class did a while ago. We explored some of the concepts in my book, Confident Color. Their response to this exercise was awesome.

Photoshopping with The New Creative Artist--Check out this recent entry on my blog, then view a few pages from the book.
Please visit my art blog and let me hear from you. Subscribe to my Blog with Bloglines, a newsreader that shows when the blog is updated.