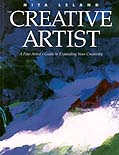 Just 5 copies left in stock
Half-price clearance sale--only $12.50
Your last chance to own this popular classic!
The Creative Artist: A Fine Artist's Guide to Expanding Your Creativity by Nita Leland. Choose to be creative! Whether you're a beginner or an artist who wants to break through a creative block, this book will unleash your natural creative abilities. Artists at all skill levels enjoy the inspirational, motivational approach and delightful exercises. Teachers also use this book as a resource for class projects. The book has been a best-seller since its publication in 1990 and is still going strong. You'll have fun while you grow as a creative artist.

"A remarkable exercise book for any artist in any medium, The Creative Artist can inspire the beginner or unblock the professional." Library Journal
Activate the creative process within yourself and others.
Develop skills that make you more creative.
Smash creative blocks.
Use memory, imagination and visualization more effectively.
Explore creative mediums and techniques.
Have more fun making art.
Readers say:
"I use this book for inspiration, ideas and great fun."
"Some of the activities have become part of my daily drawing and planning routine."
"The Creative Artist belongs in every art teacher's curriculum library."
"Teaches how to unlock motivation and use it in an artist's quest for originality."
Read a detailed review of this book.
Was $24.99, now $12.50 softcover
ISBN# 0-89134-465-9
BUY NOW!

| | |
| --- | --- |
| | Buy with 1-Click! |