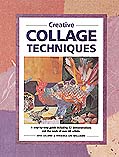 DVD!

One of the most popular collage books ever, Creative Collage Techniques: A Step-by-Step Guide by Nita Leland and Virginia Lee Williams, includes 52 demonstrations and the work of more than 60 artists. Collage is great fun and is becoming more and more popular with artists at every skill level.

This thorough book contains all you need to know to get started in collage, refine your techniques and learn experimental processes, from making papers to creating unusual surfaces for watercolor and acrylic painting. Start with simple projects for beginners and in no time you'll work up to advanced techniques. A great teacher's handbook, too, with easy projects for young children and more challenging ones for serious students.

"This is as comprehensive and useful as a how-to on collage can be." Booklist
Set up a collage work space.
Use a variety of papers for collage.
Design watermedia and mixed-media collages.
Prepare unusual supports for collages.
Create your own handmade collage papers.
Make winning collages that will last.
Readers say:
"This book provides so many creative techniques and much inspiration."
"The text is informative and professional, as well as easy to understand."
"Opens up a whole new world of art."
"Your collage book has become The Artists' Bible for me and my friends."

$22.99 plus shipping and handling
ISBN# 1-58180-098-3
| | |
| --- | --- |
| | Buy with 1-Click! |